How to Keep Your Head Warm During Winter Without Making Hair Fall Flat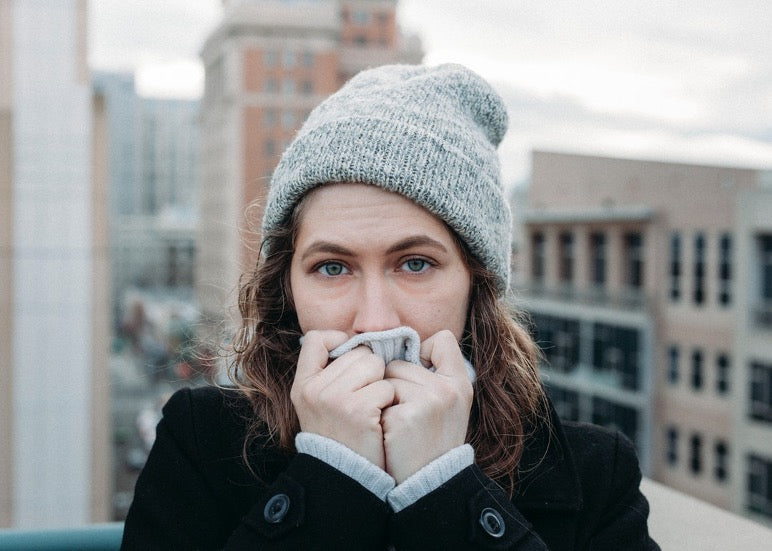 The hair accessories market is estimated to reach $46.6 billion by 2029, but even with the best product, you can still face problems when styling your hair. Whether you have long or short hair, keeping your head warm without messing up your hairstyle is almost impossible. 
No one wants to have a bump in the middle of their curls when they arrive at work or an event after they take off their head warmer.
This article will give you magic tips for keeping perfectly styled hair without suffering from the cold and wearing a winter hat that ruins your day's look. 
How to Find the Right Head Warmer This Winter
When you scroll past an Instagram photo of someone wearing a beautiful head warmer and their winter hair accessories sparkling in the sun, you don't see the reality of messy hair. After the nice photo is taken, they remove the head warmer and have a giant bump or wrinkles all over their hair.
To keep your head toasty, you need to think practically and aesthetically when browsing for your next head warmer. For instance, ear mittens are a great choice for protecting your ears and will add a lovely touch to your hairstyle. 
Think Practically and Aesthetically
You can easily pop ear mittens over your head when shopping or at a friend's house. But they don't put as much pressure on your scalp, which means your hairstyle won't be flattened in the same ways as a large, woolen hat. 
Ear mittens are designed to stay on your head without falling off with movement. So, you won't need to worry about adjusting them for more comfort when going about your daily errands. Another benefit of wearing ear mittens is that you can find them in different colors and styles. 
You can buy faux fur ear mittens or studded ear mittens with gems if you want something more luxurious.
Keep Your Hair Tidy With Head Wraps
Head wraps are an excellent way to keep your hairstyle contained without letting your ears turn red in the freezing temperatures outside. Most of the time, head wraps look like a fashion choice, so people won't be able to notice that you're wearing one for warmth. 
If you're concerned about ruining your outfit with the wrong accessory, the best option is a head wrap. They are elegant and sleek, but they will keep your head warm. Plus, you won't need to style your hair again throughout the day once your curls have set. 
Pick Loose Fitting Beanies or Snoods
Beanies are one of the most popular choices for keeping your head warm in winter, which is why people like to wear them with their outfits. Unfortunately, beanies are also bad for leaving messy hair and making your head too hot on long walks. Even though they look nice, they can be damaging to your hairstyle. 
Some beanies are loose-fitting, which is better for people who like to curl or straighten their hair. So, as long as you find products that specifically mention that they aren't tight and will fit loosely on your head, you can still wear your favorite beanie. 
You should look for materials like silk, cotton, or cashmere, as they are lightweight options that won't create a lot of pressure. Alternatively, you can treat yourself to a handcrafted, thin woolen beanie that will feel extra soft and look incredible with a warm winter coat or jumper. 
Snoods don't need to be placed directly on your head, but you can still roll them up to your ears, which is ideal for protecting your hairstyle. Unlike beanies, snoods also provide warmth to your neck so that you can avoid stiff neck pain in winter with this accessory. 
Hairstyling Techniques That Last
With the right product, you shouldn't have to deal with messy hair and uneven curls. For example, a high-quality volumizing hair iron should be able to style your hair for several days. This means once you have styled your hair, you should be able to leave it and wear loose-fitting head warmers during winter. 
Investing in the right product will make your life much easier during the cold season when you want to look great but have a warm head. 
If you want something quick, a pair of braids or low-hanging ponytail covering your hair will give you more protection from the cold without needing a beanie or head wrap. You can do these hairstyles a few minutes before work or commuting, so you can take your volumizing iron with you and style the rest of your hair later. 
Braids or a ponytail are great choices if you need to be active but have a nice hairstyle, so they go perfectly with a laidback winter outfit.
Experiment with Hair Products
Dry shampoo should be essential for everyone's handbag, as it reduces static and increases volume in your hair. You can take small bottles of dry shampoo in your bag wherever you go to fix any unexpectedly messy hair on the road. 
Safety pins will also become your new best friend in winter, as you can hide bumps with subtle black pins or secure your beanie loosely, so your hair doesn't get ruined. It's important to have a safety bag ready if your hair is exposed to harsh weather or a tight head warmer all day. 
Otherwise, your volumizing hair iron will give your hair luscious curls that last for days! 
Style Your Hair With Volumizing Tools
Everyone dreams of having those bouncing curls, but styling your hair can be tricky with a poor-quality iron that doesn't heat effectively. Our volumizing iron will transform your flat hair into a whole hairstyle in a few minutes.
When you pair your head warmer with our volumizing iron, you'll have the best hair out of all your friends. And you can still enjoy winter hair accessories without damaging your hairstyle, so you can go to parties, work, or your family's house looking fantastic! 
Make an order and contact us if you need further help with your new volumizing iron.
---